We often hear about celebrities transforming themselves for a movie role, sometimes looking like a completely different person such as Matthew McConaughey in The Dallas Buyer's Club, or Robert Downey Jr. in Tropic Thunder. While the change in appearance entertained movie goers across the globe, they were paid millions of dollars to do it. However, not all famous people undergo a transformation for fame and fortune–there are many celebrities who decided to make a change for personal reasons and achieved major results. Let's take a look at 10 Unbelievable Celebrity Transformations.
10 Unbelievable Celebrity Transformations:
10) Kelly Osbourne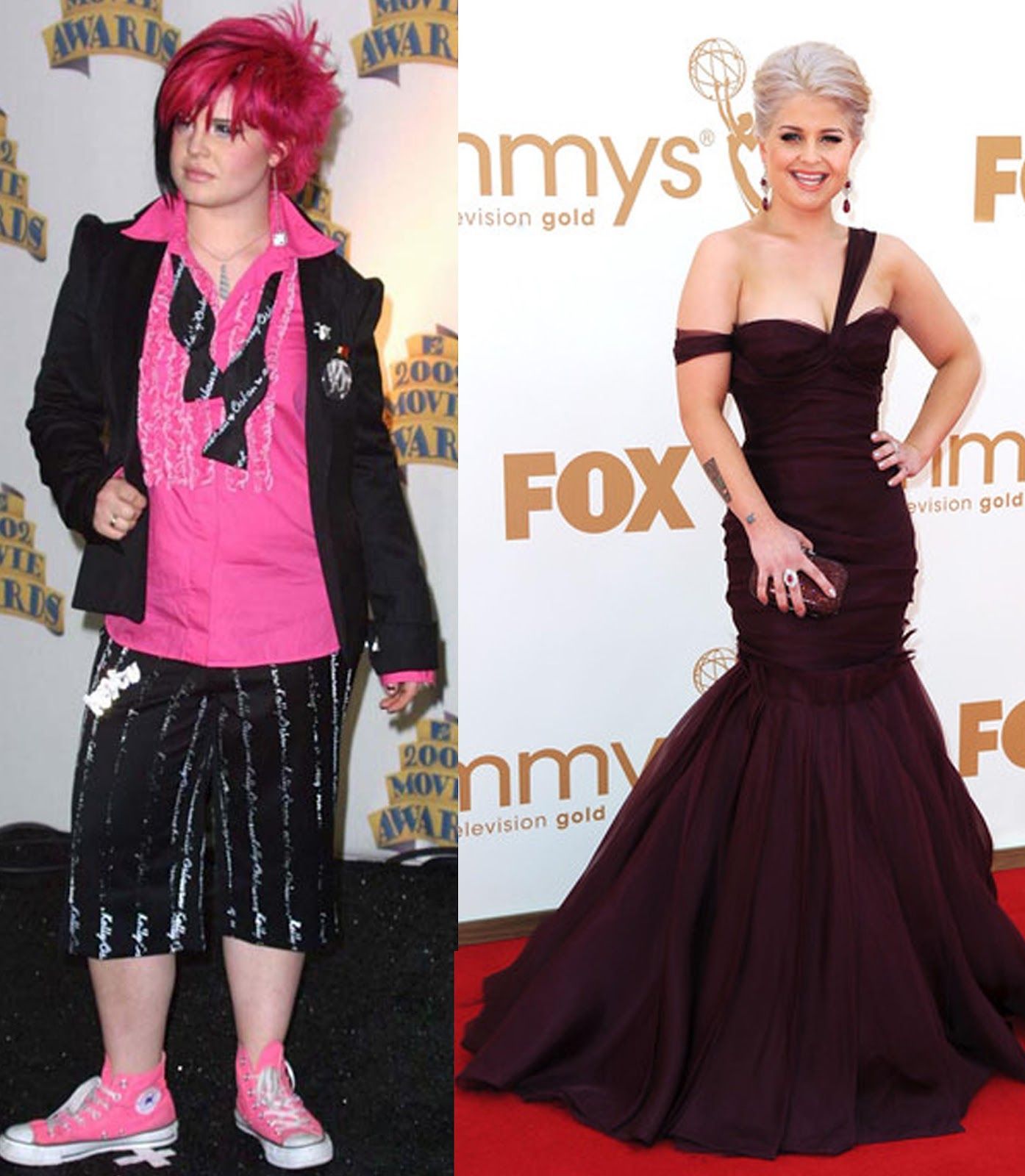 Via: blogspot.com
Kelly Osbourne became a household name during the airing of the reality show The Osbournes, which aired from 2002-2005. She was known as the daughter of the former rock star Ozzy Osbourne. Kelly conquered her weight loss struggles after participating in Dancing with the Stars by following a healthy diet and coming up with a versatile fitness routine. The 5-foot-2 star lost 42 pounds and went from a size 14 to a size 2. Shortly after, she became a fashion correspondent for the show Fashion Police, which airs on E! Network. In an interview with US Weekly, Kelly said the following about her weight loss success: 'When I look in the mirror now, it's really different. For the first time, I look at myself and I'm really proud to not hate every single thing that I see'.
9) Jonah Hill
Via: imlikingit.wordpress.co
Jonah Hill has been making people laugh for years in films such as Superbad and Knocked Up. He even received an Oscar nomination for his role in Moneyball and The Wolf of Wall Street. In 2011, he decided to make a change and lost 40 pounds by cutting out some of his favorite foods, exercising regularly, and eating a sushi-based diet. During a radio show interview, Jonah expressed his thoughts around losing weight for him: 'I think it's about the work you are doing. Getting in better shape is a sign of maturity. I think you are taken seriously.'
Jonah Hill often mentions that working out and staying in shape is incredibly difficult for him. The one thing he can't seem to quit is drinking beer, which he's never given up. 'I went to a nutritionist and said I'll lose weight, I'll eat healthier and whatever, but figure out how I can drink beer'. Luckily for the funny man, that's exactly what happened.
8) Ryan Seacrest
Via: jamietuohy.com
Did you know that this $250 million dollar Hollywood mogul was once an awkward kid? He grew up in Dunwoody, Georgia and never enjoyed playing sports. Instead, he would watch Oprah in his room while eating junk food or a big bowl of nachos. He was known as the "Voice of Dunwoody High School" and became the regular PA announcer each morning. Although Ryan was popular, he's been open about the fact that his dating life was non existence as a young teenager.
Years later,  Seacrest moved to Los Angeles after dropping out of college to pursue his dreams in the entertainment industry. In 2009, Ryan became the highest paid reality television host ever, making $15 million a year for his American Idol deal; in 2013, that went up to $30 million a year. Ryan worked incredibly hard, made smart decisions, got in shape, and changed his overall look to become one of the highest paid people in show business.
7) Chaz Bono
Via:nevillegalvin.com
Chaz Bono is the only child of American entertainers, Sonny and Cher. Chaz is also an advocate and underwent a female-to-male gender transition from 2008-2010. He legally changed his gender and name in 2010. Becoming Chaz, a documentary about his experience during the process, made its television debut on OWN several years ago. Before Chaz transformed his look, the world knew him as an adorable blonde haired girl who would often appear on her parents' variety show.
After the surgery, Chaz decided to lose weight and live a healthier lifestyle. In 2013, he lost 65 pounds, which made his blood pressure and cholesterol levels go down to normal. You can spot him shirtless these days and often wearing outfits such as nice white trousers with a blue tee. Chaz even made an appearance on Dancing with the Stars in 2011. Chaz inspired millions after 'coming out' as a lesbian at the age of eighteen and choosing to change his gender with the entire world watching.
6) Jennifer Hudson
Via: atlantablackstar.com
Before Jennifer Hudson won an Oscar and became a spokesperson for Weight Watchers, she was a contestant on American Idol back in 2004. Several years later, Jennifer won an Academy Award for Best Supporting Actress for her role in the film Dream Girls. In 2010, she was inspired to shed off a few pounds after gaining weight during her pregnancy. Within a few years she lost 80 pounds and appeared on numerous talk shows to discuss how she lost the weight. She was also inspired to start her own clothing line, which is featured on QVC's website. Hudson's biggest motivation for transforming herself was motherhood and wanting to set a good example for her son, David Jr.
5) Graham Elliot
Via: trbimg.com
Celebrity chef Graham Elliot weighed almost 400 pounds at one time. He is known for having a unique style, often wearing trendy glasses and outfits on his reality show MasterChef, and also showing off his many tattoos. In 2013, Elliot decided to have a sleeve gastrectomy, which helped him to eventually lose 130 pounds. He has been keeping the weight off by watching his diet and exercising regularly. Graham recently participated in his first 10K run in Chicago several months ago where he performed well and had positive things to say about the experience: 'The race was amazing! The feeling of crossing the finish line was a great sense of accomplishment'.
4) Snooki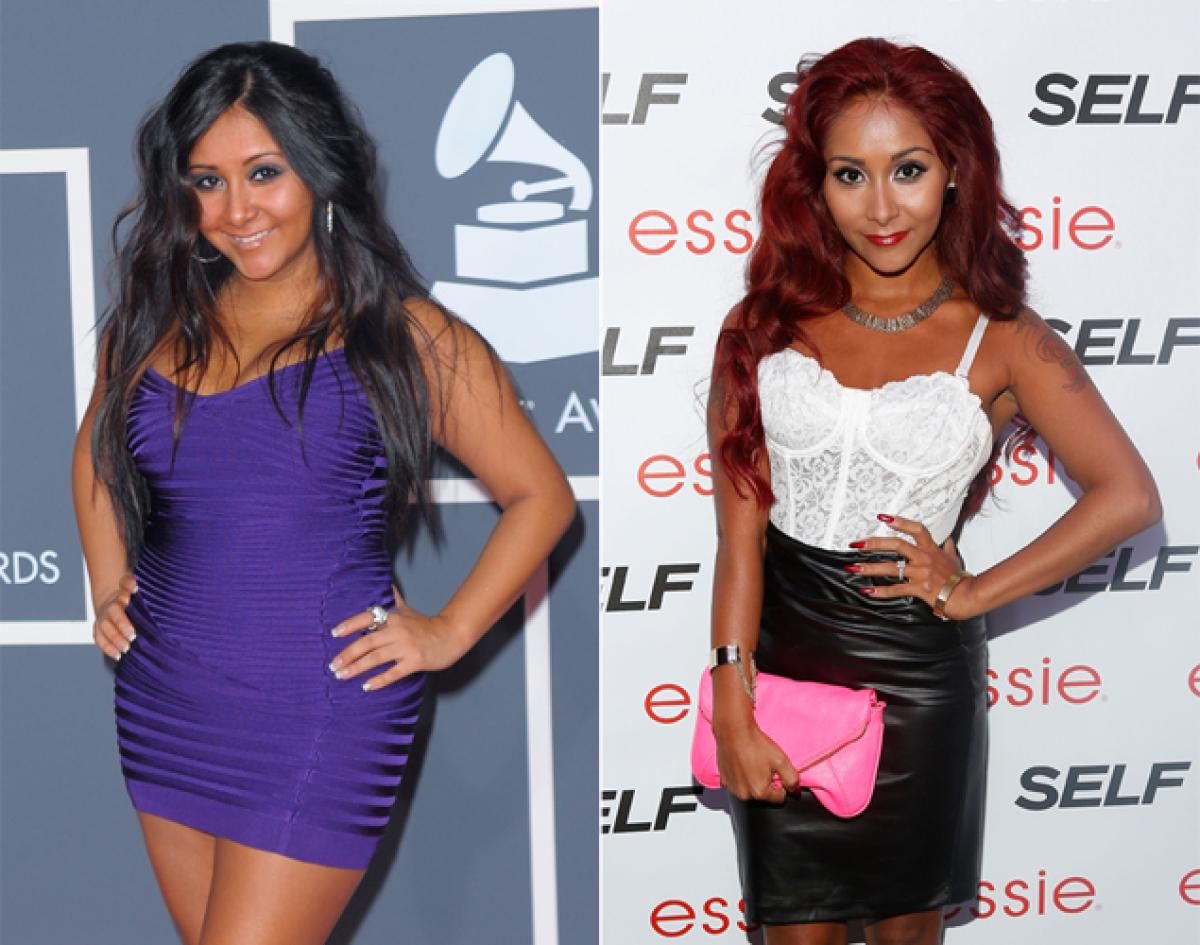 Via: nydailynews.com
"Snooki" (real name is Nicole Polizzia) achieved fame in the MTV hit series Jersey Shore, which aired from 2009-2012. She currently stars in the show Snooki & Jwoww and often appears on shows such as The View,The Wendy Williams Show, and many more. "Snooki" is also known to be one of the highest paid reality stars, at one point making $150,000 per episode for Jersey Shore.
After having a child last year, Snooki decided to get in shape and was able to lose 50 pounds. She often makes YouTube videos that feature her working out with her trainer to help others who are trying to lose weight. During an interview "Snooki" explained what made her change her look: 'I have to take care of someone else, so the partying is done basically. I'm so over it. I'm so into my family now'.
3) Miley Cyrus
Via: clevver.com
As a young pre-teen girl, Miley starred in a hugely popular show called Hannah Montana and became a Disney star. Despite being very rich and famous at a young age, Miley handled it well and never got into trouble. After her appearance on the 2013 Video Music Awards, she went under attack from the media and public. Miley Cyrus had a somewhat shaven haircut, a bathing suit on, and kept thrusting her butt in Robin Thicke's crotch area. Miley's change in personal appearance and demeanor isn't a big deal to her: 'All I did was get a haircut and buy some clothes and everyone thinks that I am made into a robot that changes with what's popular every 10 years'.
2) Jay-Z
Via: wordpress.com
When Jay-Z first appeared in the rap game in the 1990s, his style and decisions mirrored that of other hip-hop stars—big T-shirts, baggy jeans and large neck chains. He was able to sell millions of records with his own label, Rock-A-Fella Records. As the years went by, Jay-Z became a savvy businessman; he owns the urban clothing label Rocawear and also has a line of Reebok sneakers named, 'The S. Carter Collection'. He also partially owns a basketball team, sports bars, fragrances, liquor, hotels, and a full-service sports management company called Roc Nation Sports. Currently, the famous rapper is worth over $500 million dollars.
1) Perez Hilton
Via: nymag.com
The self-proclaimed "Queen of All Media" Perez Hilton is known for his hugely successful blog, Perezhilton.com where he focuses on celebrity gossip. He has been able to use his fame to star in shows such as Law & Order: Special Victims Unit and Victorious. In 2012, Perez lost 70 pounds by eating healthy and exercising on a regular basis. Perez is very honest about all of the effort it took to lose the weight, such as exercising seven times a week. Not only that, he gets calorie restricted meals delivered to him each day. Although he has to work hard to keep it off, Perez has mentioned during interviews that it's worth all the hard work.
Did You Like this 10 Unbelievable Celebrity Transformations Article  If So Give us a Like And Share… 😛